At Envision Landscapes, our dedicated team of professionals works closely with each client to bring their vision to life. Often, someone has a picture-perfect idea in their head, but they need help executing it. That's where we come in. Using our skills and expertise, we implement those changes, while ensuring the final result is durable, functional and appropriate for the homeowner's lifestyle.

Core Values
Honesty – We strive to conduct ourselves in an honest manner at all times.
Accountability – We take ownership of our words and actions & their outcomes.
Pride – Each member of our team takes pride in performing high quality work.
Professionalism – We conduct ourselves in a professional manner with our team & clients.
Education – We strive to continually educate our clients & team on best practices in the industry.
Our Services
Landscape Construction &
Seasonal Maintenance
Latest Projects
Check out our latest projects
Latest Posts
From the blog
Adrienne G
Client
We hired Envision Landscaping to do our pavers around our pool and our walkway. The whole team from start to finish was very professional and we were impressed with follow up services. I would not hesitate to recommend them to my friends, family and clients.
Read Full Testimonial
View All Testimonials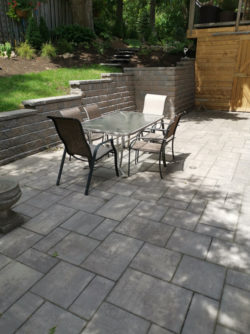 Ingrid
Client
Envision built a large patio and retaining wall in a somewhat challenging space as well as a walkway along the side of our home. We are thrilled with the beautiful work they did. I highly recommend this company.
Read Full Testimonial
View All Testimonials
Jim
Client
We left on vacation for a week, and came back to a beautiful sturdy new fence, installed professionally and straight!
Since then, we've recommended Matt & Dave and their team to everyone that we can. They're even handling the in-laws' ongoing property maintenance! :)
Another job well done, guys!!!
Read Full Testimonial
View All Testimonials
Marie and Todd
Client
After finishing a major home reno, we were in dire need of a complete property makeover including grading, water management, sod and interlock in our new breezeway. Envision Landscapes came highly recommended, and after interviewing several companies as to their thoughts on the best solutions that could fit within our budget, we were impressed by how well Matt listened to, and understood our needs.
When Dave and his crew arrived to begin work, we were thrilled with the quality, professionalism and work ethic of the entire Envision team. We absolutely love our new breezeway and lawn, and look forward to having them back to finish all our future landscaping needs.
Read Full Testimonial
View All Testimonials
Alan
Client
Words or photos cannot do justice to the quality of landscaping Envision Landscapes provided for us this summer.
Given the size of our financial investment, we naturally had to trust that Envision Landscapes would provide top quality workmanship in order meet our demands. And they did that 100%.
Read Full Testimonial
View All Testimonials
Cal
Client
The customer service was what sold us on Envision Landscapes. Both Matt & Dave were there to answer any questions we had, and guide us with the dream that my wife had "Envisioned" for our backyard project. As there are a few landscapers out there, we did some research yet kept hearing from others the name Envision so called them, and upon meeting Matt knew we had found our backyard partner. Not only did they come in under budget, but they completed on time. These guys go above and beyond... which is why our next door neighbors are now using them :) Thanks to all the crew at Envision Landscapes, we are truly proud of your work that we are sharing with our friends, and give you credit for it each time someone asks.
Read Full Testimonial
View All Testimonials
Libby
Client
Envision Landscapes recently designed and installed a large brickwork patio in our back garden. They were great to work with, very careful of gardens and grass areas. The access was very difficult down a narrow steep slope, but the work was done with no damage and with no interruption.
Read Full Testimonial
View All Testimonials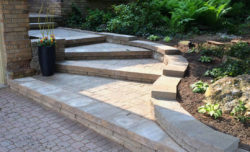 B&C de Savigny, Ancaster
Client
Envision Landscapes designed and installed new steps to our front door and retaining walls for flower beds along the driveway. Everyone, management and crew, were polite and highly professional. Work was done on time and nothing was rushed. The curved wall looks beautiful as does the new porch. We had many compliments already and are very satisfied with Envision's work. We highly recommend this business.
Read Full Testimonial
View All Testimonials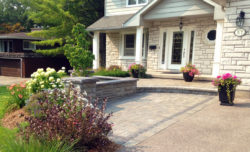 Kristin
Client
Thanks SO much for the wonderful work recently completed on the interlock installation - I continue to be impressed with your team and quality of workmanship! I was pleasantly surprised to come home from the cottage and see the amazing finished product following the sealing treatment - I fell in love with the front project you completed for us all over again:)
Read Full Testimonial
View All Testimonials
Rob & Violet, Hamilton
Client
Just a short note to 'put in writing' our delight with the new patio and arbor that Envision Landscapes installed for us this summer. You listened to our rather vague idea and made constructive suggestions to consider, based on your experience and logical sun/shade factors, to achieve our goal. We'd be happy to endorse your work and can personally attest to your skill, dedication and workmanship.
Read Full Testimonial
View All Testimonials